Improve Your Writing Instantly
We help you write readable, emotionally engaging, and error-free content.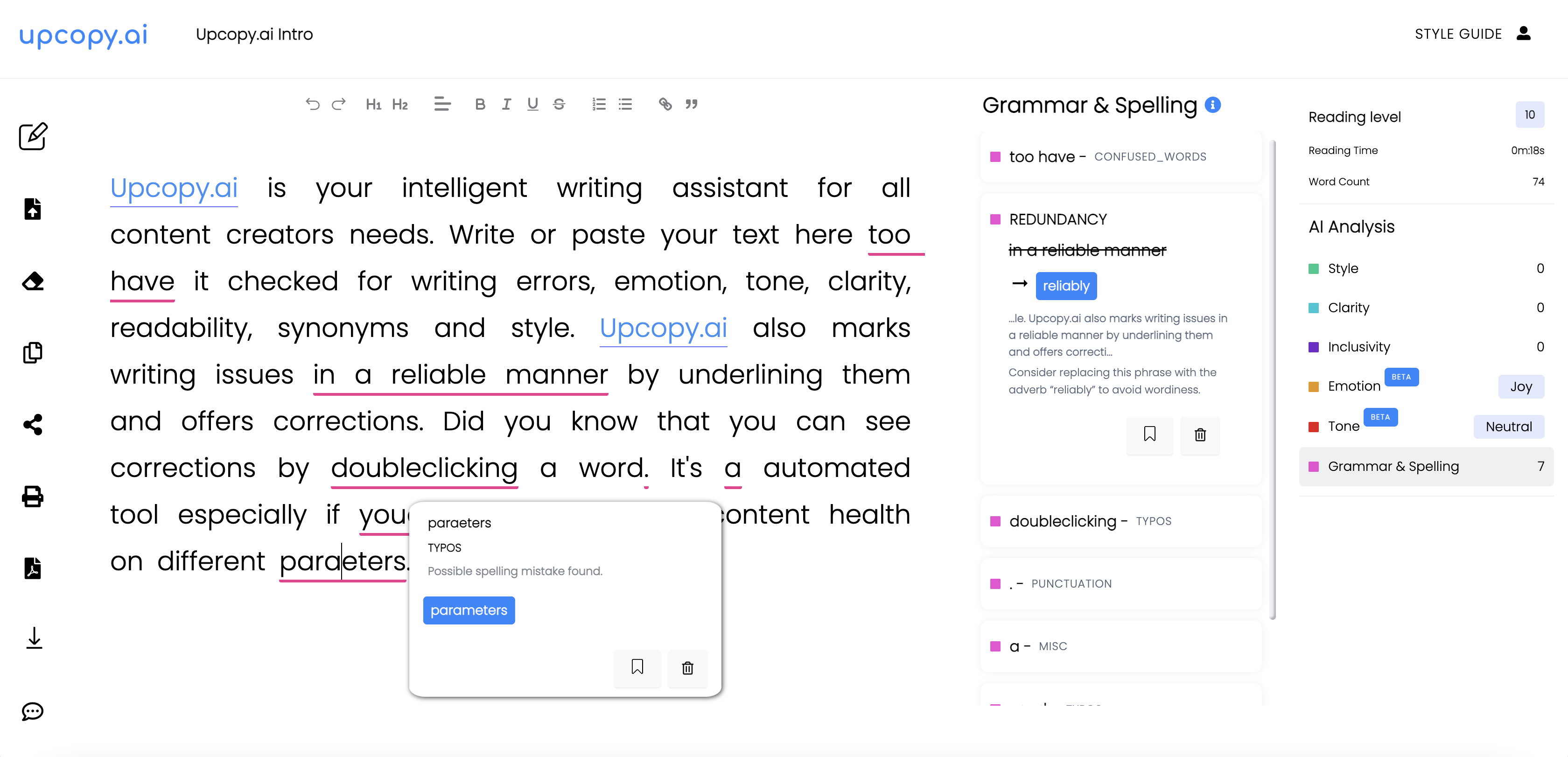 Features
Grammar & Spelling Checker
Emotions Analysis
Tonal Analysis
Readability Score
AI Style-guide
      Benefits
Write confidently with error free language
Create content with empathy
Create content to match your brand tone
Create easy to read content
Ensure your teams create consistent copy
Dr. Jan Storgårds
Cambridge Gamechanger Ltd

,

,

I run course for video game development for 60K students from all over the world who are non-native English speakers. Upcopy is a solution that helps my students to check not just grammar but to see the tone of voice and emotions to see how they are embedded in the written text such as their essays as a part of the studies. I think this would be great tool to build strong and consistent brand image while communicating with customers. It goes beyond the language errors, and offers the emotions, tone and consistent voice checks.
Philip Marais
OVH Cloud

,

,

I used upcopy.ai writing tool to analyse my posts before sharing. I found it very useful to get a 2nd opinion on the content before posting!
Javier Mora
Frameworks Education Group

,

,

Upcopy's AI driven innovative technology will become key for professionals and businesses looking at getting the right tone expressing the right emotions in their external email communications, blog articles, newsletters, web content, etc. I have used their platform and the results were quite revealing.
Yupar Myint
Maxwell Centre, University of Cambridge

,

,

Communication is the lifeblood of our daily routines, sharing our thoughts, ideas and emotions with the work colleagues and friends. Upcopy's content assistant is a great tool, making you aware of your written communication styles and improve your skills effectively. It is fascinating, enjoyable and very useful!
Alpesh Patel OBE
, Department for International Trade

,

,

Upcopy's product is invaluable and the team are executing it with great efficiency, innovation and effectiveness.
Anil S Nair
,
I have had the privilege of using the beta version of Upcopy's AI powered Content Assistant over the last few weeks. My initial impression is that they have stuck a goldmine with this wonderful utilitarian tool. In a world where we are sending out much more content on a daily basis, one unintentional bad piece can ruin reputations or create angst among the stakeholders. This tool eliminates the probability of misrepresentation of published content as you are able to have a second opinion on the emotion and tonality of the same. A must have tool for anyone who needs to communicate with external and internal stakeholders constantly.
Simon Hall
Creative Warehouse

,

,

I found the system remarkably simple to use, and beautifully effective and helpful. I always try to make my writing warm and positive, but it showed me areas where I could be more engaging and empathetic, and that has helped my work hit just the right note.
Steve Barlow
Graphcore

,

,

In this world of rapidly written short messages that we now use to communicate, it is very easy to use a few words carelessly and give a wrong impression. This tool is a perfect way of checking you are creating the sentiment that you intend.



Cambridge, England – Feb 1, 2023 – Upcopy.ai is a new writing platform that fixes...

Upcopy.ai is introducing personal snippets, one of the most requested features by our users....

A hook (or narrative hook) is defined as the literary technique of creating an...