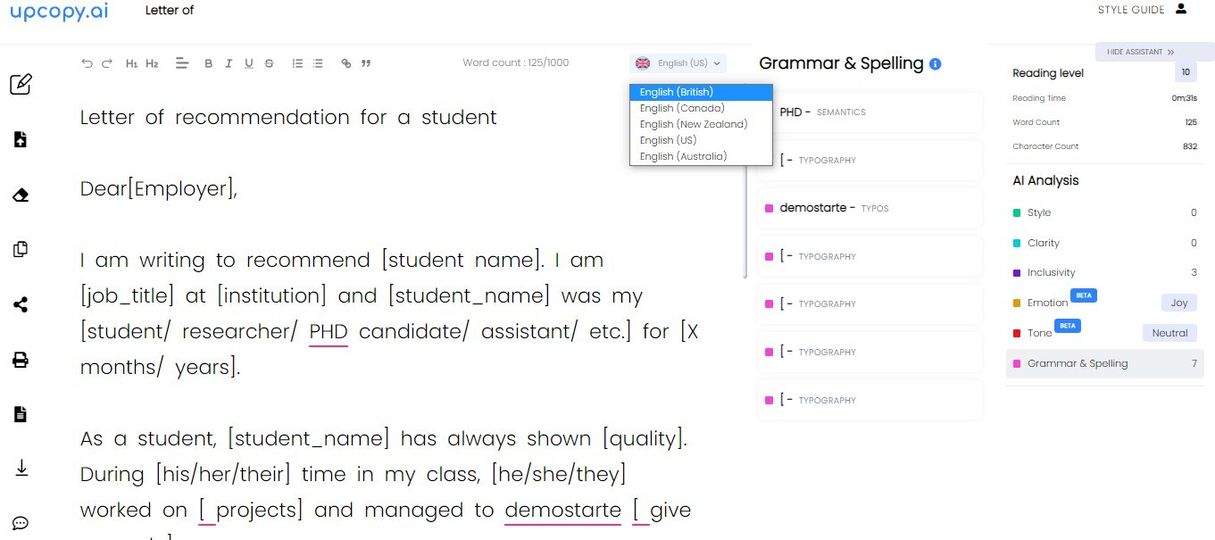 Upcopy.ai users can now use British(UK) English, American(US) English, Australian(AU) English, Canadian(CA) English & New Zealand(NZ) English as their preferred English Language.
Upcopy.ai language correction platform works across all English language variations: American, British, Australian, Canadian and New Zealand. This feature will help users from various parts of the world using different English language variants, as upcopy.ai has active users from more than 85+ countries.
It is a helpful feature, as the upcopy.ai users previously demanded support for US English. The AI platform has its default language as British English.
People writing in US English had spelling issues. For example, Flavor is mainly used in American (US) English ( en-US ). In contrast, flavour is mostly used in 🇬🇧 British English (used in UK/AU/NZ) ( en-GB ). But now, they can quickly write in their preferred English without any prompts for spelling errors.
Upcopy.ai strive to offer the ultimate writing platform for English as a second language learner, non-native English speakers, Students, Tutors and Professional.
Sign Up for 14 Day free trial by visiting upcopy.ai.
#englishlanguage #englishlearning #english #englishvocabulary