December 14, 2022

admin

0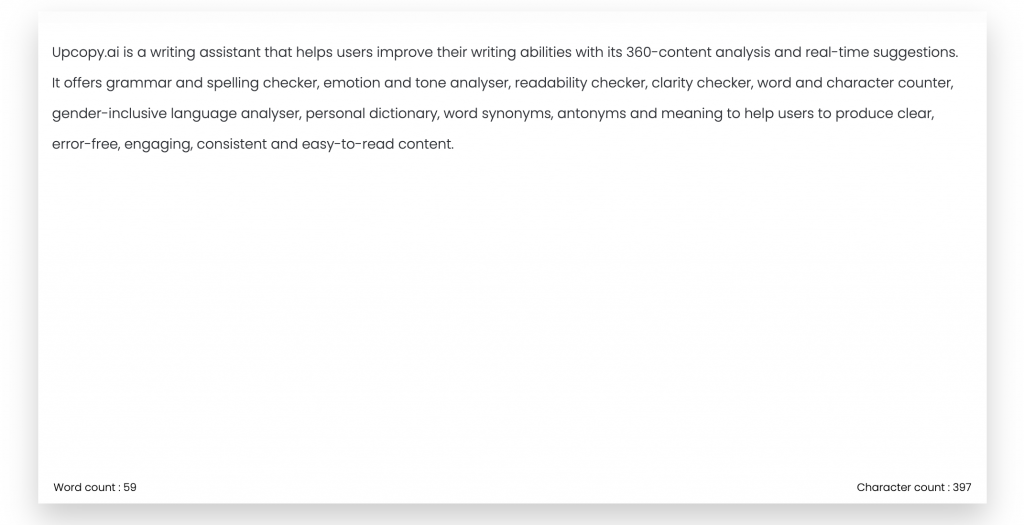 Upcopy.ai Word and Character Counter is a free and straightforward tool for keeping track of your word and character counts in your writing. Our online word count tool provides statistics for both words and characters simultaneously.
What are word counters and character counters?

When you enter your text into upcopy.ai's Word Counter, our intelligent platform quickly conducts the laborious counting jobs for you, allowing you to know exactly where your project's word and character limitations are.
Therefore, save yourself time and let upcopy.ai be the word and character calculator if you need clarification on the rules governing what constitutes a character or if compound words are considered to be one or two words.
You can rely on upcopy.ai's knowledge to understand that accented letters don't count as two characters, hyphenated words only count as one, and spaces often do count as characters.
You don't need to count words or characters by hand to make sure you're meeting your writing goals or sticking to strict character limitations. Your time is more valuable than that, as is your vision.
When do you use a word or character counter?

There are several purposes for online word and character counters, including allowing you to verify your daily writing objectives, complete assignments, and produce popular social media posts.
Who needs both a word and a character counter?

Numerous other applications exist for word and character counters, as assignments and forms are permanently configured differently to achieve different goals.
In addition to the single-use cases for each counter, there are a couple of prominent use cases where a writer or small business owner would need to be able to use both types of counters to complete a single project. Check them out below:
Bloggers: Numerous tasks must be completed when writing a blog post, such as research, drafting, and SEO, for an article to be indexed and found online. Bloggers, for example, typically aim for over 1,000 words in each article to ensure that they include all of the necessary information about a topic.
In addition to that word count goal, once an article is written, the SEO details (such as meta title and description) must be written within certain character limits so that search engines know to return the article as a result of relevant keywords.
Online Business Owners: Whether doing business on their website or a third-party platform, those doing business online often have a target word count for product descriptions for consistency, and this is often mandated, usually with a minimum, for some online retail platforms.
SEO and character limits are critical for businesses with their website to follow so that search engines understand the business and market and can direct searching users to the appropriate product pages.
Most platform sellers will still need to understand and optimise keywords and metadata for their products to be correctly found. These limits are almost always given in characters rather than words.
How does the Word Counter work?

Simply type or paste your text into upcopy.ai's free online word and character count tool, and upcopy.ai's Word Counter will instantly calculate the number of words and characters.
How does upcopy.ai's word Counter differ from other online word counters?

It may be the newest word and character checker on the market, but it will quickly become your favourite for at least one of the following reasons:
We are more than a word and character counter.
We bet you will find upcopy.ai writing assistant because of the various productivity-enhancing features that our platform offers:
Grammar and Spell Check: Write error-free language to build trust and credibility with your audience.
Emotion and Tone Analysis: Gives you the ability to connect with your audience on a deeper level with empathy by analysing sentences for emotions such as joy, anger, fear, surprise and sadness.
Readability Analysis: Create easy-to-read content for wider reach, decreased bounce rates, and improved search engine ranking (SEO) and buying process.
Clarity: This helps you avoid passive language to improve reader engagement.